CANNES FAQ
What to wear at the festival
May on the French Riviera brings with it mixed weather. Whilst it's quite common for daytime temperatures to nudge 25°C (77°F), you will almost definitely see a day or two of rain and cooler weather during the festival. Evening temperatures rarely drop below double figures, but the wind can make it feel cooler.

During the day, the dress code is fairly informal. Neat or business casual should suffice for screenings, meetings, and general hanging out. T-Shirt, shorts, and casual dresses are fine, but shoes or sandals will be required. Don't wear flip-flops as some of the humourless security goons have been known to take issue with these.

You should also be aware that there are mandatory bag searches when you enter the Palais. And this is every time you enter. So if you need to carry a bag during the day, it's best to make sure it's one that's simple for the Palais security people to search.

For evening screenings, the dress code is 100% black tie. For the blokes, that means a tuxedo and dress shirt (although you can sometimes get away with a black suit); but don't forget your bow-tie. This is essential. Recognised formal national dress (e.g. a formal Scottish kilt outfit) is also acceptable.

For women the rules are, as always, a little looser. You don't need to wear a ball gown, but you must dress to impress for a very formal evening. Short skirts aren't recommended, and it's worth keeping the heels sensible. Unless you're lucky enough to arrive by limo, there is a bit of a walk between the ticket entry point and the red carpet. You'll also have to navigate several sets of stairs before you get to your seat inside, including some rather steep ones in the Grand Auditorium Lumiere.

To get the best of both worlds, some festival veterans have been known to pack a pair of slim flat shoes in their handbag, worn for the walking and waiting, before a quick change in the line, just head of stepping onto the red carpet.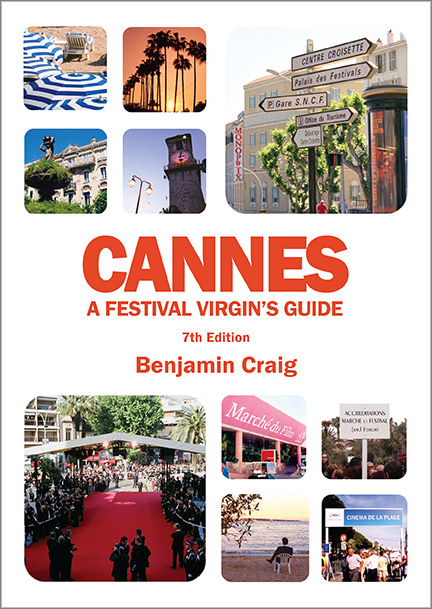 A full rundown on the 2024 Cannes Film Festival, is available in the book, Cannes - A Festival Virgin's Guide (7th Edition).
Find Out More >
< Back to the Cannes Festival Guide