CANNES FAQ
How do I submit a film to the fesitval?
The core rules for applied to all films by the Festival when it comes to submissions are:
Films that have been produced during the twelve months preceding the festival
Films whose exhibition has been limited only to their country of origin
Films that have not been presented in any other competition or otherwise exhibited in any motion picture event, or on the Internet
Films that respect the aims of the festival as defined in Article 1 of the festival rules: "The spirit of the Festival de Cannes is one of friendship and universal cooperation. Its aim is to reveal and focus attention on works of quality in order to contribute to the progress of the motion picture arts and to encourage the development of the film industry throughout the world."
For short films, the running time must not exceed 15 minutes in total (including credits).
Feature films selected for Competition must be released theatrically in France following the festival according to the French media distribution laws.
Note that there are no separate programmes for documentaries or animated films at the Cannes Film Festival. Feature documentaries are very rarely invited into the competition and no animated film has ever been selected. Animated and documentary films do occasionally make it into the official shorts categories (Shorts Competition and Cinéfondation).
All films (features and shorts) which are accepted into the festival must have a 35mm print or a DCP available for the screening, and be subtitled in French and/or English (depending on the original language of the dialogue). The costs for producing the screening copies and subtitles must be met by the film's producer or appropriate representative.
Submissions are normally open from January to March each year and can be made via the Festival's official web site. When it comes to feature films, the expense and complexity of screening in one of the official programs means that submissions are normally managed in conjunction with the film's sales agent and publicist. Occasionally, festival submissions may also be coordinated by a country's national film commission or equivalent organisation.
More information about deadlines and film submissions can be found at the festival's web site.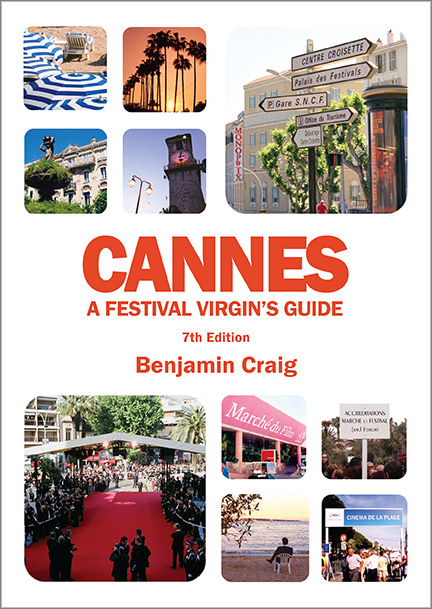 A full rundown on the 2024 Cannes Film Festival, is available in the book, Cannes - A Festival Virgin's Guide (7th Edition).
Find Out More >
< Back to the Cannes Festival Guide